The VRP M156 3.0L Supercharger Upgrade is finally available!
After 3 years in development, Victory Road Performance is proud to release the most advanced performance upgrade for the M156.
On a stock motor, VRP has managed to make over 294WHP gains over stock with tons of room to grow! A bone stock C63 will make near 365whp on a mustang dyno. Keep reading to find out more about this kit and see what our M156 VRP Supercharger equipped vehicle made:
It's all in the details…
First lets go over what makes the VRP supercharger kit the best upgrade for your M156!
For our M156 Supercharger Upgrade, we chose to do what no one else is doing and utilize the Gen 5 3.0l Whipple W185AX head unit. The most efficient unit Whipple has ever made. We are currently the only company using the true 3.0l unit. This head unit is capable of over 1300HP!
Once we had the supercharger sorted, we needed a cooling system to support it. We found this to be the main flaw of the kits currently on the market. How do we pack the largest possible intercoolers into the limited space we have available? We asked ourselves.. what supercharged V8 makes nasty power in its factory intercoolers in a compact package? None other than The Dodge Hellcat.
Using the factory Hellcat intercoolers has its advantages. We knew the potential power supported (Over 950whp) and the price was unbeatable. No custom intercooler required, just one of the best factory cooling systems on the market direct from the dealership at a killer price. This is why this kit is priced where it is. The use of these coolers allowed us to cut the price of the kit by almost $1,500!
We have made this kit compatible with the throttle body upgrades we currently offer for the M156. The VRP Supercharger upgrade includes plates for both factory 74mm and the 82/85s as well. We plan to offer the 92mm hellcat throttle bodies in the future.
The VRP Supercharger kit is also compatible with our modular crank pulley, and we have an 8 rib setup currently in development!
The Numbers Don't Lie…
For our test bed we used a 2011 E63, The vehicle was already equipped with the following mods:
VRP Long Tube Headers with x pipe
VRP Headstuds
Titanium cam hardware
VRP 93 Octane tune
The car put down very healthy before numbers:
– 439WHP
– 485WTQ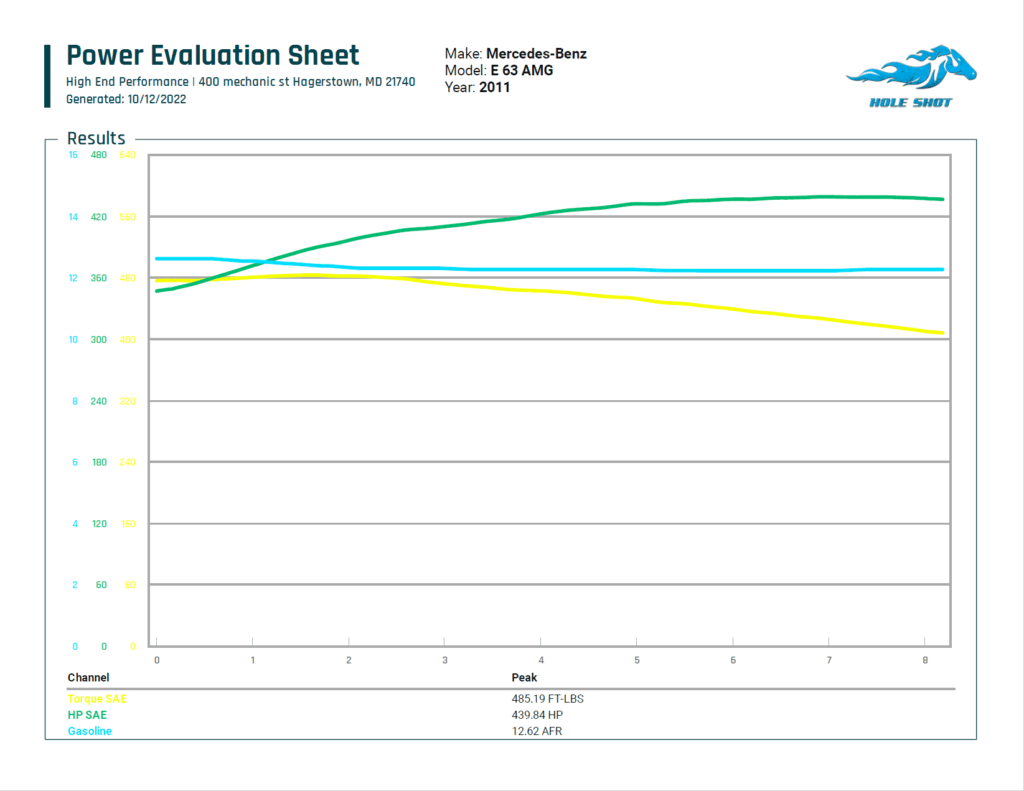 After the Baseline dyno, we installed the supercharger an intake for testing with the required cooling mods. All other mods were unchanged!
We took the car back to the same mustang dyno with the test 82mm pulley and put down 595whp basically on first startup making less than 5psi. Based on those numbers we decided to step the pulley down to something a little more aggressive.
With a simple VRP flash tune for a 72mm, we took the car back to the same dyno.
The 72mm Pulley produced
-659 WHP
-611 WTQ
With NO dyno tuning the VRP kit exceeded our expectations:
After Mods:
– VRP M156 Supercharger Upgrade Kit with 82mm throttle bodies
– VRP Heat Exchanger
– Bosch 010 Pump
– Cone filters
– Vrp longtubes with x pipe
– Vrp headstuds
– Titanium cam hardware
– VRP 93 Octane tune
Cooling Mods:
The VRP 3.0L kit was able to achieve this incredible power with a simple flash tune, NO dyno tuning, Just 1 log from the previous dyno session with the 80mm pulley where it made 595whp. What's incredible is that the cooling system on this car is just about as simple as we could make it. A bosch 010, and a VRP heat exchanger.
No tank,
No meth,
No ice.
595whp 82mm pulley: Starting IAT 100, Ending IAT 117
An improved supporting cooling system including a VRP superflo pump and Trunk tank would increase the power output of this kit drastically. We are thoroughly impressed by the efficiency of the Hellcat intercoolers.
We would like to note that our competitors release data on dynojet dynos, This car should make over 720whp on a dynojet. We do plan to take it to a dynojet within the next week on the same setup with some improved cooling, (New pump, and an ice tank) A stock motor 720whp daily driven M156? Yes please.
FAQ
Are there instructions provided?
-Yes we provide paper instructions in each kit, and we also have a digital instructional on our website <Link>
Will I need to upgrade my transmission for this kit?
-There are Many factors that determine whether or not you will need a transmission upgrade, The type of racing you do, the tire and the power output of your vehicle should all be considered, A transmission upgrade is not a requirement to run this kit for daily use, However if you are Drag racing with a sticky tire on a prepped track we would consider a built transmission.
Will you still be offering the cast version of this kit?
-At this time we have decided to only offer the billet version of the kit
How is this kit superior to your competitor's supercharger kit?
-The VRP supercharger is Superior in a number of ways, <need a whole section on this>
Do I need any other supporting modifications with this upgrade?
-This kit does require upgraded injectors of at least 630cc, These are an optional add on when purchasing the kit.
Will my AMG engine builder placard fit over this?
-The AMG Builder Placard is not compatible with the supercharger by default. However, you have the option to affix your plaque to the kit using the same epoxy that Mercedes used on the OEM supercharger.
Will the stock motor be able to handle this modification?
-Yes! Our test car was on a fully stock motor, Stock heads, Stock Cams, and fully stock bottom end
Does this kit require forged pistons?
-As built the kit does not require a built bottom end, however if you intend to run a pulley that makes more than 9psi a bottom end would be required.
Does the kit come with intercooler and piping?
-Yes, The VRP supercharger has integrated intercoolers, The kit will include the full cooling system required to install the kit including a split cooling tank, a Heat exchanger, Pump, and of course the intercoolers. everything needed to install this upgrade is included in the kit
Will my VRP m156 throttle body Upgrade work with this kit?
-Yes! We made the M156 Supercharger kit compatible with the VRP 82/85mm Throttle body upgrade so that you can retain your old modifications!
Huge thanks to Modern Masters in West Virginia the authorized VRP Dealer/ installer who helped us get this kit tested. Contact them for installation inquiries!
Modern Masters (240)707-1642
Additional Documentation:
<link to instructional>
Checkout LegitStreetCars Video on Youtube of the preliminary testing Click Here